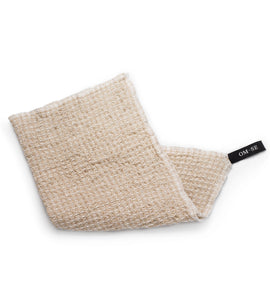 Linen Face Cloth, 1-Pack
The Linen Face Cloth will easily wipe off the cleansing oil from your face.
Provides gentle  daily exfoliation

100% GOTS-certified linen 

Premium long-lasting quality

Made in Sweden
---
Free delivery on all orders
How to use
Use with Oil Cleansing Method
Apply 2-3 pumps of the Face Cleansing oil onto dry skin - yes, dry. Massage to melt away all traces of your day.

Soak the linen face cloth in warm to hot water, squeeze and wipe off all the cleansing oil from your face.

We recommend using one side, or a part of the cloth, to clean away make-up and grime, and the other side to do a second round of wiping.
If treated with care, linen as a natural material can last between 20-30 years (that's 10x longer than cotton!). Simply press the cloth one or twice a year using an iron to strengthen the linen yarn fibers.